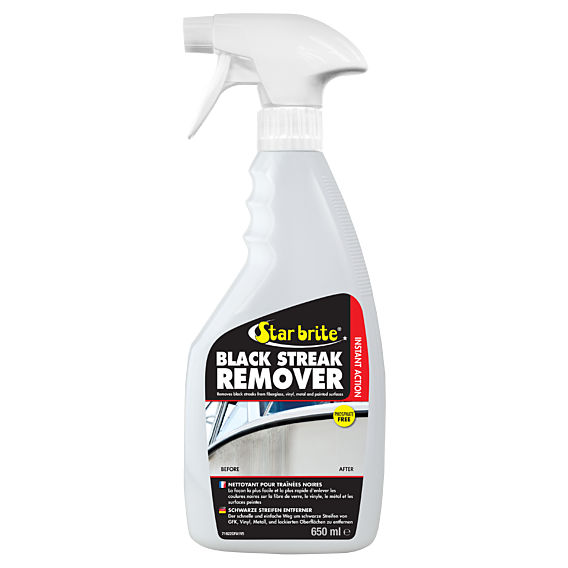 Description
Black Streak Remover begins working on contact to eliminate black streaks under rubrails or anywhere else on the boat. In addition to being the best way to get rid of black streaks, this product is a great all-around cleaner for all marine surfaces and around the house. Ideal for use to remove black streaks or grime from fiberglass, metal, plastic, rubber, vinyl or painted surfaces.
Features
Quickly removes black streaks caused by water run off.
Safe for use on fiberglass, metal and painted surfaces.
Will not remove wax or polish.
Spray directly onto black streaks and wipe off; no hard scrubbing needed
Hundreds of uses; will instantly remove stains and marks on boats, cars, caravans and around the house
Directions
Shake bottle before using. Spray Star brite Instant Black Streak Remover directly on stained area. Let application soak in for 30 seconds before using a clean cloth, brush or sponge to wipe away stain. Rinse well with water. Severely stained surfaces may require a second treatment and light scrubbing. Will not remove wax or polish; safe for fiberglass, vinyl, plastic, stainless, rubber and painted surfaces.