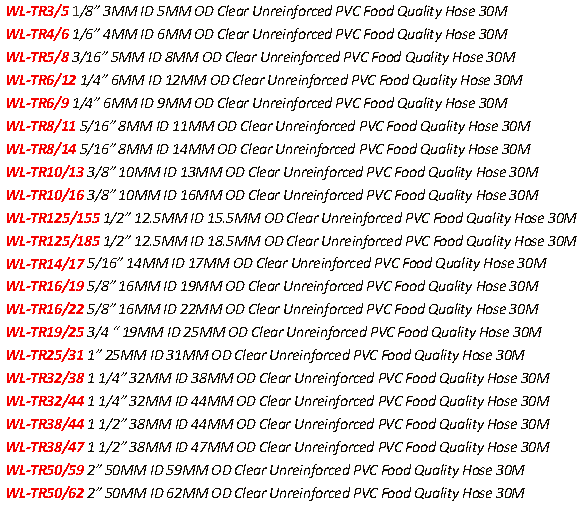 Clear PVC hose, suitable for both low pressure food and industrial applications, is manufactured from the highest quality, low-toxic materials to give excellent clarity, flexibility and durability over a wide temperature range.
KEY FEATURES:
• Glass clear transparency for easy visibility.
• Excellent abrasion and corrosion properties for increased durability.
• Good flexibility for ease of use.
• Manufactured from cadmium and silicone-free materials using a special low toxic,
  odourless PVC formulation that can reduce the taint of drinking water.
• EC compliant for food contact applications.
• RoHS compliant.
• Suitable for use with alcohol, petrol, oils, greases and solvents.
• Highly resistant to a wide range of acids and alkalis.
• Service temperature = -15°C to + 60°C.
SIZES:
• Available in 30m coils
• 3mm-50mm ID
APPLICATION EXAMPLES:
• General industrial applications
COLOURS:
• Clear