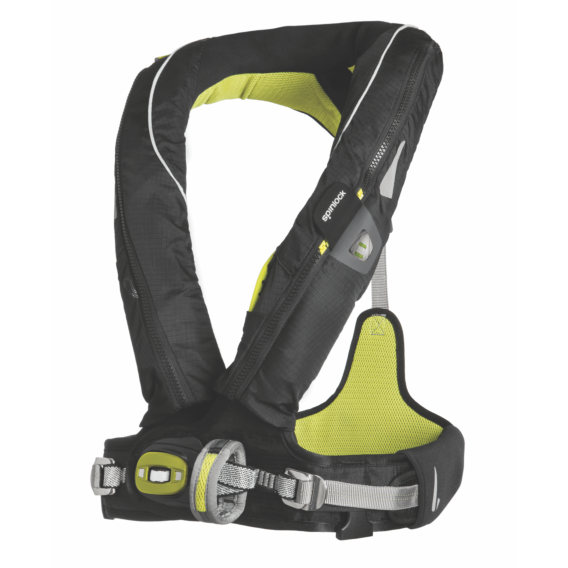 High specification automatic inflating lifejacket harness

Very light, comfortable design for use over long periods

Compact and unobtrusive

Pylon Light – high intensity, water activated flashing LED Light. 23cm flexible antenna wand gives improved visibility above head & water
Lume-On™ - Lifejacket bladder illumination lights included
Deck safety harness with soft loop safety line attachment point
Double crotch straps / thigh straps with recessed clips
Sprayhood - to reduce the risk of secondary drowning
Quick access emergency safety line cutter
Mesh pocket for VHF/PLB Locator
Toggle attachment point for Chest Pack - DW-PCC (170N only)
Now available in 3 colours: Black, Pacific Blue, Tropic White
Unique 'Shoulder Fit System' flexes and locates ensuring correct fit on shoulders every time

New back adjustment – hidden and non snag for easy, simple adjustment
Easily converts to 'manual only' firing head with a Manual Conversion Kit
Through Life Support (TLS) Registration extends product warranty to 5 years
CO2 Cylinder - 33g
Weight- 1310g
The Deckvest 5D Pro Sensor uses the UML Pro Sensor inflator.
This is a water sensitive activation system, that uses a compress paper capsule which dissolves when wet, which then releases a spring to pucture the CO2 cylinder.
The cap is designed so that only water flowing upwards through the unit will cause it to activate. Water, spray and rain running down the jacket will not cause activation.
The Pro Sensor has two indicators that show the status of the CO2 cylinder and firing head. 
Life jacket inflation system explained 
Deckware 5D Instructions
Size Guide
Note: We recommend that the Deckvest is checked at least once a season, and before any long passages. We recommend that you have your Deckvest serviced by a service agent once every two years.