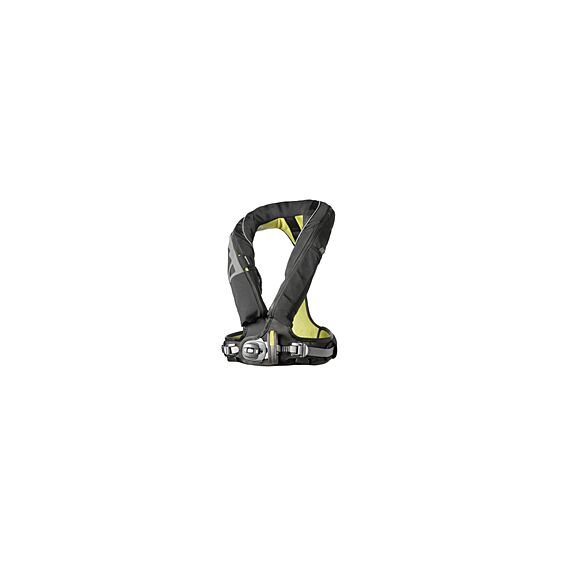 Spinlock 275N Deckvest Lifejacket Harness Hammar - Size 3 
The complete lifejacket harness for all sailors,
High specification automatic inflating lifejacket harness
 Very light, comfortable design for use over long periods
Compact and unobtrusive
 Pylon Light – high intensity, water activated flashing LED Light. 23cm flexible antenna wand gives improved visibility above head & water
 Deck safety harness with soft loop safety line attachment point
Double crotch straps / thigh straps with recessed clips
 Sprayhood - to reduce the risk of secondary drowning
Quick access emergency safety line cutter
Mesh pocket for VHF/PLB Locator
 Toggle attachment point for chest pack- DW-PCC
 Now available in 3 colours: Black, Pacific Blue, Tropic White
 Unique 'Shoulder Fit System' flexes and locates ensuring correct fit on shoulders every time
 New back adjustment – hidden and non snag for easy, simple adjustment
 Easily converts to 'manual only' firing head with a Manual conversion kit
Through Life Support (TLS) Registration extends product warranty to 5 years
RescueMe / AIS MOB1 available to purchase as a stand-alone unit or supplied fitted integrated within a Deckvest.
275N
CO2 Cylinder - 60g
Weight - 1600g
Approvals
The Deckvest 5D Pro Sensor is approved to the following international standards:
CE Approved
ISO 12402-3 Lifejacket (170N) ISO12402-2 (275N)
ISO 12401 Deck Harness
Through Life Support
Registering your Deckvest gives you the benefit of our unique online support, to help ensure that your lifejacket is reliably maintained.
Lifejacket warranty is extended to 5 years upon registration
 Prompts for winter care, storage and pre-season safety checks
 Access to latest online support and advice
 Updates on MOB prevention and advice
The Deckvest 5D Pro Sensor uses the UML Pro Sensor inflator.
This is a water sensitive activation system, that uses a compress paper capsule which dissolves when wet, which then releases a spring to pucture the CO2 cylinder.
The cap is designed so that only water flowing upwards through the unit will cause it to activate. Water, spray and rain running down the jacket will not cause activation.
The Pro Sensor has two indicators that show the status of the CO2 cylinder and firing head.
Lifejacket inflation system explained
Deckvest 5N hammar instructions
Note: We recommend that the Deckvest is checked at least once a season, and before any long passages. We recommend that you have your Deckvest serviced by a service agent once every two years.