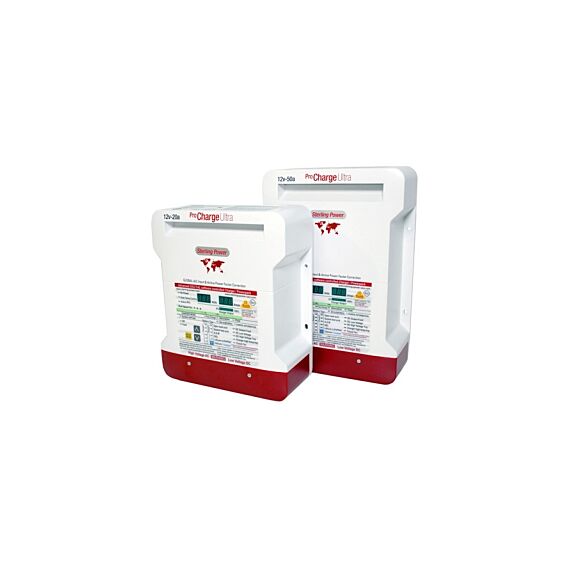 What size of charger do I need?
Most companies recommend a battery charger to be about 10% of the amp hr capacity of the batteries requiring to be charged. However, if you have a generator set onboard and you wish to charge your batteries faster - ie, to save fuel, then depending on your budget, you can easily double the charger size to reduce your generator running hours and achieve the charge faster.

11 preset charging algorithms & 1 custom set
The Pro Charge Ultra has 11 different charging characteristics for corresponding types of batteries: Gel, AGM, sealed, open, calcium, LiFePO4. If these should not suffice there is 1 customizable setting which the user can set themselves - simply enter the absorption and float voltages then press enter and the settings save.

Performance monitoring LED bar
A bar of LEDs display the percentage to which the Pro Charge Ultra battery charger is operating at. This is easily and quickly recognised at a glance and can be easily analysed.

Redundant high voltage protection device
In the event of a failure of the main processor this unit provides another safety system to shut off the device. Doubling the levels of security.

Programmable power reduction
The Pro Charge Ultra can also charge with variable performance levels. The following performance levels available are: 100%, 75%, 50% & 25%. This can be controlled via the front panel or via programming the remote control. Power reduction is often used if the power supply to the charger is inadequate (e.g. small generator) but still enables competent levels of battery charging. Another benefit of power reduction is to reduce fan noise, as less heat is liberated.

Small, lightweight and powerful
The Pro Charge Ultra series is characterised by its very compact, low weight and small footprint structure. The 12V / 60A model only weighs

Splash protection
For vertical mounting, the unit has drip water protection. The protection class is IP22. It meets the requirements of the ABYC drip test.
Synchronized Rectification
Modern, synchronized rectification with MOSFET technology makes the Pro Charge Ultra Series 9% more effective. Less heat liberated and increased efficiency are also features of this latest technology. Boasting an elegant yet functional design.
The Pro Charge Ultra housing was designed by a renowned American product designer. In the foreground stands optimal function and clean lines. The housing is made of plastic and the back is made of well protected metal plate with the latest corrosion coatings, all other metal fixtures and fittings are stainless steel or non ferrous.
Automatic Desulphation / Equalization
Every 7-10 days the Pro Charge Ultra undertakes a desulphation / equalisation and anti-stratification program which keeps your batteries young and rejuvenated.

32 LED display
32 LEDs built in to the front panel provides all the necessary information about the charger including: charging status, battery chemistry select, temperature and voltage warnings along with many others.

Variable fan speed
The internal temperature of the device ultimately runs the speed of the fan. This guarantees a minimum possible noise. So called 'thermostatically controlled force draft cooling'.

Three isolated charge outputs (PCU 12V/10A has 2 outputs)
The Pro Charge Ultra has 3 isolated charging outputs. 3
batteries or battery banks can charge without the batteries themselves being interconnected, e.g. Starter, domestic and generator starter battery.

Voltage + Current LED display
2 LED matrix displays. The left matrix displays the voltage output from the charger and the right matrix displays the current leaving the charger.

Global Application
The Pro Charge Ultra will operate with AC voltages ranging from 80V-270VAC (40- 70Hz) and DC voltages of 130-320VDC.

CEC Mode
UL 1236 SB Listed, the highest build standard.


Now with 5 Year Warranty
260 x 215 x 90cm
2kg