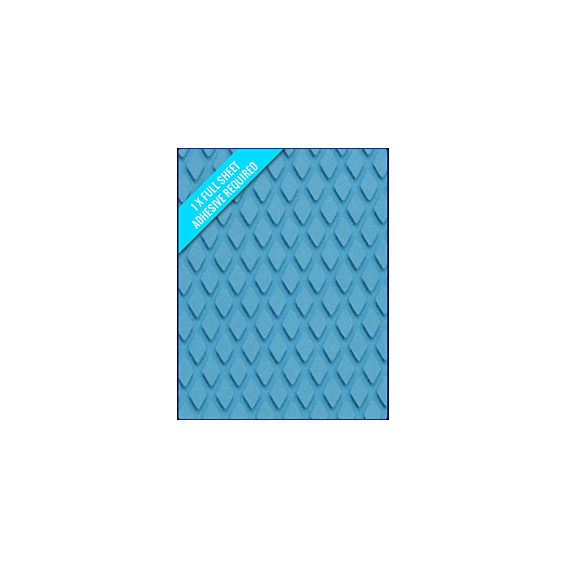 Treadmaster Marine, Light Blue Self Adhesive Grips Pads are suitable for anywhere requiring an easy to fit, anti-slip covering. These pads are also easy to trim using a craft knife or sharp scissors. The Treadmaster sheets are very easy to trim, either by using a craft knife or sharp scissors. Other benefits include being unaffected by exposure to sea water and its specially designed nitrile rubber/PVC formulation, resists the chemical effects of oil, fuel and other commonly used substances. Treadmaster DP Light Blue Sheets do not have a PSA (Pressure Sensitive Adhesive) option. Sheet size 1200 x 900mm (4' x 3' nominal)

There are distinct safety advantages in the event of fire, the material being self-extinguishing.

Having a light sheet weight (approx. 2.0 - 2.5 kg/m2) Treadmaster Original does not affect the performance or stability of the craft.

These qualities are achieved in a process involving the careful selection and blending of a unique combination of polymers and natural cellular materials, and avoids the harsh abrasive surface associated with non-slip deck paints and tapes.

FITTING:
Treadmaster Original is easily bonded to fibreglass, wood and metal surfaces using either Treadmaster Marine Contact Adhesive, or for maximum durability, particularly in warm climates, the two part Treadmaster Marine Epoxy Adhesive.
Sheets are simply and quickly cut to size with scissors or a craft knife. Rounded corners can be finished with abrasive paper.

AVAILABILITY:
Available in two surface finishes, the DP Grade is the famous diamond pattern, providing an attractive appearance and the highest level of grip in all conditions, while the SP Grade has a finely textured surface providing sure footing and a surface which is comfortable for sitting and kneeling on.
Sheets are supplied in a single size of 1200 ´ 900 mm, in 3 mm thickness for DP Grade and 2 mm thickness for SP Grade. Both are available in an attractive range of subtle colours.

CLEANING AND MAINTAINING:
Treadmaster Original is unaffected by exposure to sea water. Its specially designed nitrile rubber/PVC formulation resists the chemical effects of oil, fuel and other commonly used substances, however any spillages should be cleaned up promptly to avoid surface staining.
Cleaning of spillages should be carried out using a cloth or soft brush and warm water containing a mild detergent. The surface is rubbed very gently to remove the spillage, then rinsed with plain water.
Cleaning fluids containing bleach, and abrasive cleaners, must never be used.
Being a substantially natural product, some colours may show a degree of fading after a period of exposure to the elements. If required, the colour can be readily restored using the new brush-applied 'Treadcote', specially developed to refurbish old and faded or stained Treadmaster Original.

CLICK HERE FOR DATASHEET
Products may vary slightly from their images. Although we have made every effort to display product colours accurately, we cannot guarantee that a device's display reflects the correct colour of our products.