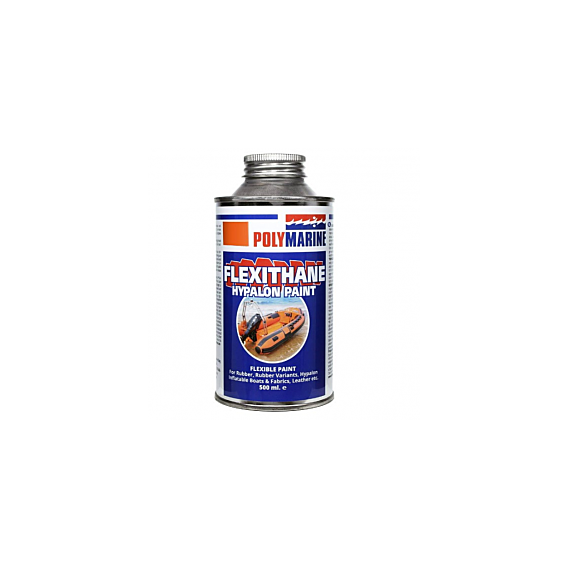 Polymarine have formulated a specialist paint called Flexithane for the renovation of inflatable boats made from Hypalon PU and rubber variant fabrics.
Flexithane is matched by Superflex the for same great results on PVC Dinghy Fabrics. Flexithane has excellent adhesion properties and is highly elastomeric with an extreme stretch ratio that will not crack or flake off. Flexithane's coating properties are highly opaque and normally require only one coat for true colour rendition. A second coat will enhance the smooth satin appearance and improve the lasting durability
The Unique Properties of Polymarine Flexithane Paint
*A fully flexible paint formulated for Hypalon PU and rubber variant fabric. *High Adhesion. *Hard Wear and Abrasion Resistance. *Smooth satin finish, will not crack or flake off. *No mixing required, just a vigorous shake or stir. *Apply with a brush, Touch Dry in 5 minutes at 20°C. *Second Coat can be applied when entire surface is Hard Dry in 20 minutes at 20°C. *Full Dry is achieved after 24 hours. *Used for renovating Hypalon inflatable boats and RIBS. *Also used for resealing and preventing rubbing strake and mouldings from powdering. *1 x 500ml Tin is enough to apply two coats of paint on 4 to 5 square metres.
APPLICATION Shake the Paint Tin vigorously prior to application. Add the approximate amount of paint you intend to use in one session to a paint kettle or similar container. Stir the container of paint every few minutes.
BY BRUSH (recommended) It is recommended that Flexithane be applied using a good Brush with Natural Bristles. Synthetic Bristles may dissolve due to the solvents present within Flexithane.
ROLLERS (not recommended) Use of Gloss Paint Rollers is not recommended as they're usually synthetic and prone to breaking down due to solvents, thus spoiling your final finish.
SPRAY PAINTING - Professional use only with appropriate breathing apparatus
Spraying can be done using the Polymarine Flexithane 2681 Thinners, at a mix ratio of 1 Base to a maximum of 15% Thinners. Two spray coats should be applied as a minimum. Refer to SDS for cautionary and safety procedures.