MATERIAL
We insist that the fabric used is of top quality 900g 1100 Denier polyester, rather than economy boats which use
750g PVC fabric which are more suitable for lighter use. Our high quality fabric offers increased abrasion resistance,
durability, dimensional stability, tensile and tear strength all of which enables us to offer a 4 year limited warranty.

ATTENTION TO DETAIL
Waveline is suited to all users whether you are a casual user with a family, or someone who likes to put their boat
through its paces with some water sports. We have designed our boats to be able to carry bigger outboard engines by
including Splashwell flaps to minimise spray and have ensured the boats are hand glued, and double taped seamed,
meaning that it is stronger and easier to repair should the boat become punctured or damaged. For safety reasons we
ensure all boats are a 3 chamber tube construction.

FEATURES
We understand that the ideal rowing position for each person is completely different. As a result we have developed
and integrated an adjustable sliding seat that will allow the tallest or smallest person the most comfortable ride under
oar. In addition, to offer greater stability, all slats and seats in the Waveline boats are now aluminium rather than the
basic wooden style for comfort of use, and to further increase durability, stability and comfort. Waveline boats now
benefit from using Bravo rowlocks and cleat style handles that are more robust, as well as lengthened rope for extra
safety. Finally, an improved transom drain has been integrated to replace the traditional bung for ease of use.
• 900g 1100 denier polyester
• 4 year limited warranty on seams and cloth
• Splashwell flaps
• Aluminium sliding seat
• Cleat style handles
• Transom drain
• 3 chamber construction
• Wide rubbing strake
• Low profile valves
• Stainless steel towing eyes
• Bravo rowlocks
• Lengthened rope for extra safety
• V keel
• Fuel can straps
• Sliding seat position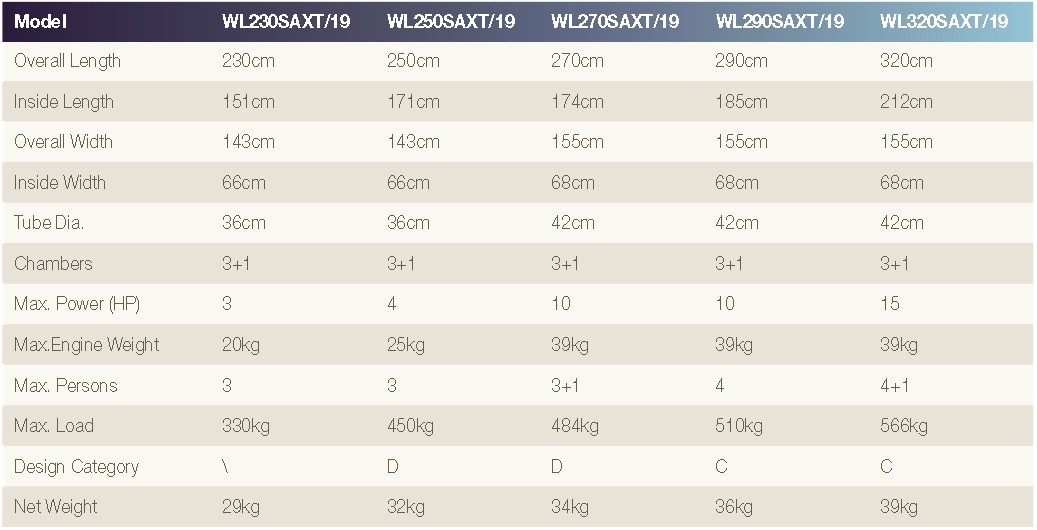 Includes: Collapsible oars, repair kit, foot pump, oversized valise
Tube Pressures - Max: 0.25 bar / Mattress: 0.6 bar